What is Creation?
Our special theme says, "Creation is the sum of all God's Thoughts, … There was no time when all that it created was not there. Nor will there be a time when anything that it created suffers any loss. Forever and forever are God's Thoughts exactly as they were and as they are, unchanged through time and after time is done."
Yesterday we contemplated God's Thoughts as Infinite-Eternal-Awareness-Love-Bliss, perfect love-joy, Love-Bliss for all eternity, and infinite-eternal-existence-being-life. These ideas are not things. These ideas are formless reality, which A Course in Miracles calls "creation."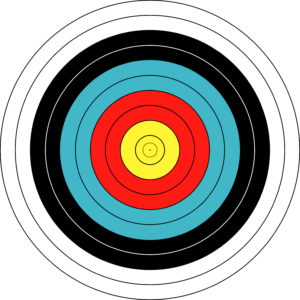 Let's take a moment to look at the contrast between unreality and reality (creation) using the example of a bulls-eye target. The entire target, from the white circles all the way to the yellow bulls-eye, represents the sense of self. Reality does not exist anywhere on this target. Reality is in the absence of the target.
Let's assume the yellow and red portions of the bulls-eye are the wrong-minded, selfish, personal sense of self that people typically call ego. The blue portion is more general cultural conditioning and human identity. The black and white portions of the target are increasing levels of spontaneous, purified mind.
When the sense of self is fully intact, it blocks reality (God's Thoughts) entirely. However, when Grace responds to our spiritual commitment by shooting at the target and blowing away a portion of the sense of self, one begins to have direct experiences of reality through the hole in the target.
The direct experience of the divine through a hole in the target is often called awakening. However, as long as any portion of the target still exists, there is some sense of self—some illusionary experience—and reality is not yet known as it is. Instead, it is known through some degree of a sense of self. When Grace fires at the target with a cannon ball that completely demolishes the sense of self in its entirety, Manonasa has occurred and Nirvana (creation) is known.
If you consider this example, you might see how there can be different levels of awakening or multiple awakenings.
For example, imagine a person experiences a shot from Grace that blows out the yellow portion of the target. That will feel like an awakening. However, the red, blue, black and white portions of the target remain. Those portions may be blown out all at once one day with Grace's cannon ball, or there may be a few more shots with a shotgun that blow away additional portions of the target before the final cannon ball comes.
Another person may experience one awakening—one cannon ball blast that destroys the sense of self all at once entirely.
Yet another possibility is a shot that blows a hole in the center of the target and starts a fire, which consumes the entire target from the inside out. This is experienced as gradually decreasing self, as the inner flame burns self up.
If you look carefully at the example of the target, you can see several possibilities:
The process of awakening may feel very different for different people.
Since different people experience awakening differently, it will be described in different ways.
Since non-total awakening can be a drastically different experience than one's previous experience, based on the size of the hole, one may think total awakening has occurred when it has not.
Awakening is not compete until all levels of the sense of self are destroyed, including even the highest or most pure levels.
Absolute truth can only be known as it is, which is without any sense of self, when the entire sense of self is obliterated.
I gladly make the sacrifice of fear.
The example of a bulls-eye target can also help us see why one experiences fear or resistance during awakening. Imagine holding still while someone takes a shotgun or cannon and shoots directly at you. We can even experience fear when Grace shoots at us with nothing bigger than a BB gun.
If we want to experience higher levels of awakening, and especially if we want to experience Manonasa, we must be willing to give up listening to fear. If we listen to fear, we will jump out of the way when Grace comes with its gun. We need to learn to hold steady, be still and do nothing even as fear shouts and screams, so Grace can take aim and fire.
Please contemplate this tip today. Give yourself some time to be with it instead of rushing on to other things. The ego would love for you to forget this teaching. Be determined to absorb it deeply instead.
Meditation Options