Join us at 10:15am ET / 7:15am PST for our Weekly Gathering with Rev. Gloria Wells
Gloria's topic will be: "Loosening the ties that bind".  Her reader will be Lyn Johnson, who will read NTI Luke Chapter 13
Our Weekly gathering is held every Sunday morning at 10:15am ET in the Awakening Together Sanctuary. Join us after the Gathering for our Fellowship Time, hosted by Ken and Rebecca Gibson.
———————————————————————————————————————————————————————————————————————————–
Join us at 7:30 pm ET / 4:30 pm PT for our Satsang with Bentinho Massaro.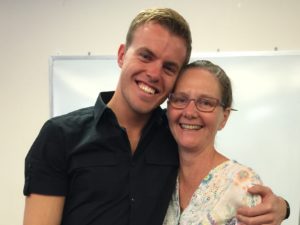 This will be the second time Regina has interviewed Bentinho. She interviewed him first in September 2014. Bentinho was also a retreat leader at the Awakening Together Fall Retreat in 2015.
Regina became interested in interviewing Bentinho again when she heard that he recently recommended Michael Langford's books, The Most Direct Means to Eternal Bliss and The Seven Steps to Awakening, to participants of his retreats.
About Bentinho:
Bentinho is best know for his Trinfinity Academy, which has three categories of teachings: Enlightenment, Empowerment and Infinity. Comprehensive yet accessible, mind-blowing yet practicable, timeless yet cutting-edge, Bentinho Massaro's teachings both transcend and empower the individual — creating an advanced yet easy-to-follow system for gaining an all-inclusive and direct experience of spiritual awakening, personal liberation and empowerment of your heart's truest desires.
2014 Awakening Together Interview
———————————————————————————————————————————————————————————————————————————–
Join us at 9:00pm ET / 6:00pm PT for our newest program, Fully Human Fully Divine Satsang 
with Craig Holliday.
Craig Holliday has agreed to continue his examination of what it means to be both free and human.