Flights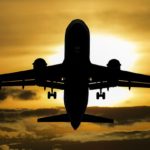 You will book your own flights to and from Tel Aviv Ben-Gurion Airport (TLV). Plan to arrive on Saturday, October 20, 2018. If you fly from the United States or Canada, you will have to depart home at least one day earlier in order to arrive on time. If you are taking the pilgrimage only, you may depart Tel Aviv on Sunday, October 28. If you are taking the extension trip, you may depart Tel Aviv on Friday, November 2. Airport transfers may not apply if you arrive or depart on different dates.
Once Regina has booked her flights, she will post them here. If you want to coordinate your flights with Regina you may. However, it isn't necessary to coordinate your flights with Regina as long as you book flights using the dates above.
Deposits & Payments
When you register, you will be required to pay a $200 deposit per person. The deposit is non-refundable 60-days after registration or after February 26, 2018, whichever comes first.
Final payments are due by August 28, 2018. Anyone registering after August 28 will be required to make full payment when they register.
If you would like to make payments on your trip after registering, you can make payments at the bottom of the Pilgrimage Homepage. If you should cancel, any payments you made (minus  Paypal fees) are refundable prior to August 28, 2018 except for the deposit. (See above for deposit refund limitations.) After August 28, 2018, payments are only refunded if the Israeli Tour Company chooses to issue the refund.
Spending Money for the Trip
The amount of spending money can vary greatly by individual since some individuals shop more than others. For those on a budget, I recommend $65 per day cash, which will cover your lunches, tips for the tour guide & bus driver (optional) and light shopping. For those who enjoy more serious shopping, increase the cash amount and bring a credit or debit card.
Note: Israel accepts dollars and Euros as currency. The exchange rate may vary by vendor.
Dress Code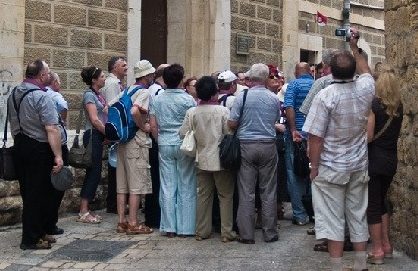 Both shoulders and knees must be covered when visiting holy sites. This applies to both men and women. Capris are okay.
The dress code does not apply on the beach, on the streets or in places of business. However, since we will visit holy sites nearly every day, the dress code applies to us on most days.
Visas & Passports
Visitors to Israel must obtain a visa from one of the Israeli diplomatic missions unless they come from one of the visa exempt countries. Exempt countries include the European Union, United Kingdom, Australia, Canada, the United States and more. For an up-to-date list of exempt countries, click here.  All visitors must hold a passport that is valid for 6 months after the date when the visitor will depart Israel.
Immunizations
The United States Center for Disease Control (CDC) recommends that you are up-to-date on routine vaccinations, which include tetanus and flu vaccines, before travel to Israel. They also recommend Hepatitis A. We will spend one day in the West Bank. We will not visit the Gaza Strip. Click here for immunization details.
Trip Itineraries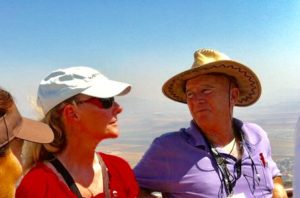 Trip itineraries are always subject change. Factors that may affect the itinerary include traffic, weather, crowds, demonstrations, unscheduled site closures, etc. This is the fourth time Regina Dawn Akers and Sam Gorenshten have worked together to lead spiritual pilgrimages in Israel. This is the third time they have used Vered Hasharon as the tour operator. Therefore, you can relax on this trip and leave the details to them.